Equipment, Service & Maintenance
Dust control, erosion control, soil stabilization, and other chemical treatment programs perform only as well as they are applied and maintained.  MinTech ensures the reliable performance and long-lasting effects of our material handling solutions through our unique, three-pronged approach to service. Our proven formula of combining the three key elements of quality products, high performance equipment, and routine service and maintenance has provided our customers with industry-leading performance and merited MinTech with over 20 years of success. All three elements are necessary for success and provide the flexibility to adapt programs to specific challenges facing each individual industry.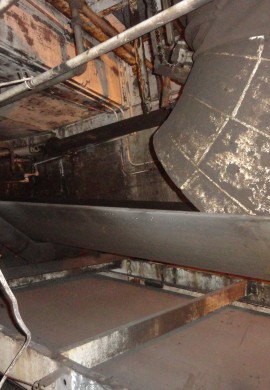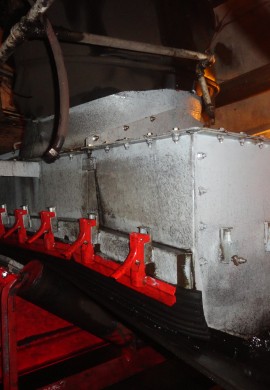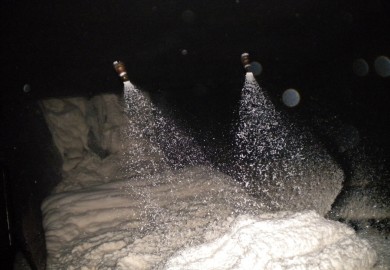 Our 100% full-service, in-house, start-to-finish engineered equipment and systems installations provide immediate, optimum performance while our routine maintenance schedules ensure continuous, reliable results.

Assessment
MinTech service representatives will survey the material handling process, determine the need for dust control, chute or conveyor repairs, or dust control system repair through visual inspection, monitoring,  and maintenance. Our extensive evaluation will consider risks, OSHA combustible dust compliance, material handling management, application equipment, utilities, and budget requirements to determine the best plan to address the problem areas.
Engineering & Design
MinTech engineers and application experts will consult, conceptualize, engineer, & design chutes, conveyors, spray heads, systems, and equipment to the exact, custom specifications determined from the initial assessment. Customers can expect detailed field drawings, schematics, and layouts of how systems and equipment will fit together with new and existing conveyors and chutes.

Procurement
Once a project has been designed, MinTech will take care of purchasing all systems and equipment necessary to help get operations running.
Fabrication
After all the pieces are in place, MinTech will build systems and equipment from the detailed designs to meet the requirements of each project.
Installation & Start-Up
After detailed designs have turned into fabricated systems and equipment, MinTech handles 100% of the installation to get the project operational. Our high volume, logic-controlled systems that include application redundancy and multi-sourced chemistries, sensors, electric, water, and air systems get switched on and phase into full-scale applications.
Monitoring & Maintenance
Once operational, MinTech service representatives will routinely visit customer sites to monitor and perform repairs to ensure systems, equipment, and applications remain operation and performing to the specifications of each project. Customers can expect a full report summarizing the results of each project and service reports from each follow-up appointment.

Lab Services
MinTech lab services include:
Site Surveys
Soil Analysis
Sample Analysis
Road Treatment Analysis
Dust Suppression Analysis
Seasonal Solutions Analysis
Spontaneous Combustion Susceptibility
Spontaneous Combustion Inhibitor Analysis
Title V Compliance Reports
MinTech offers quarterly and annual monitoring and reporting for Title V compliance. MinTech's state of the art mobile and stationary dust monitors simultaneously measure both mass fraction and size fraction to deliver accurate, real-time results for a variety of applications.