Binding Agents for Agricultural Products
MicroBind additives exceed durability and solubility performance requirements for micronutrient fertilizer blends.  Natural dispersant activity ensures even distribution of micronutrients on macronutrient fertilizer surfaces, producing higher crop yields. MicroBind solutions are designed to be applied at any point of the manufacturing, transportation, or distribution process, giving fertilizer manufacturers, blenders, and terminals the flexibility of when, where, and how they add customer-specified micronutrients.
MINTECH COATINGS SYSTEMS
Our process starts with a site visit by MinTech engineers who then custom-design, fabricate, install, and operate an application system suited to each operation's performance and budgetary goals. Most systems include product storage (bulk tank, totes, or drums), pumps, material flow sensors, control panels, and spray or foam nozzles.  Because we take responsibility for every part of the process, we guarantee performance and quality.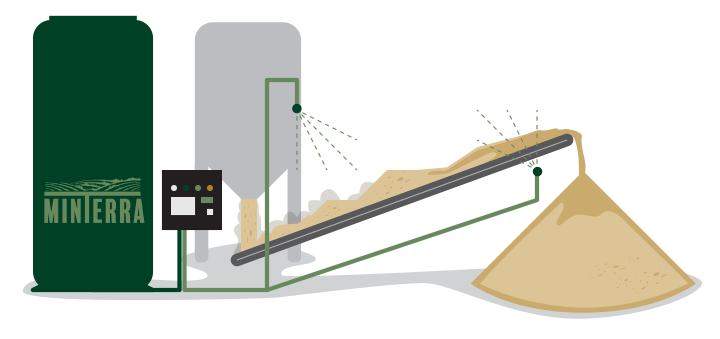 APPLICATIONS
Designed for use in pan granulation, prill formation, or spray-dried granules to boost crush strength and reduce dust formation without compromising nutrient release for NPK blends, AN, AS, Urea, Potash, Phosphates, Sulfurs, Biosolids, Micronutrients, Limestone, Gypsum, Salts, DAP, MAP, GTSP, SOP, KNO3, KCI and other agricultural solids.
Product Line
Bio-based
MICROBIND NATURAL L


Bio-Based Binding Agent
+ Product Benefits
Synthetic
MICROBIND SYN L
Polymer-Based Binding Agent
+ Product Benefits
MICROBIND SYN R HOT
Resin-Based Binding Agent
+ Product Benefits
MICROBIND SYN R
Resin Emulsion Binding Agent
+ Product Benefits