Agricultural Dust Control Solutions
DustAid coatings are designed to control dust throughout the manufacturing, transportation, and application processes of fertilizers. DustAid solutions are best applied immediately after manufacturing, prior to storage, packaging, or loading. They provide dust control of friable materials on conveyors, transfers, and chutes as well as during transit by rail, truck, or barge. Extended performance improves end-user experience by controlling dust for the life of the material. By controlling dust, DustAid coatings reduce explosion potential, improve facility hygiene, reduce worker exposure to toxins, increase production yields, and enhance material integrity and quality, increasing the marketability of treated materials.
MINTECH DUST SUPPRESSION AND COATINGS SYSTEMS
Our process starts with a site visit by MinTech engineers who then custom-design, fabricate, install, and operate an application system suited to each operation's performance and budgetary goals. Most systems include product storage (bulk tank, totes, or drums), pumps, material flow sensors, control panels, and spray or foam nozzles. Because we take responsibility for every part of the process, we guarantee performance and quality.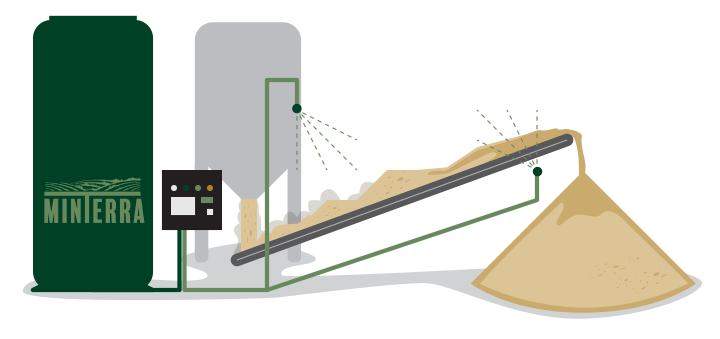 APPLICATIONS
Designed to reduce dust on NPK blends, AN, AS, Urea, Potash, Phosphates, Sulfurs, Biosolids, Micronutrients, Limestone, Gypsum, Salts, DAP, MAP, GTSP, SOP, KNO3, KCI and other agricultural solids.
Product Line
Bio-based
DUSTAID NATURAL G
Bio-Based, Humectant-Fortified Dust Control Agent
+ Product Benefits
DUSTAID NATURAL L
Bio-Based, Binder-Fortified Dust Control Agent
+ Product Benefits
DUSTAID NATURAL S
Bio-Based, Oil-Fortified Dust Control Agent
+ Product Benefits
DUSTAID NATURAL C
Bio-Based, Oil-Fortified Dust Control Agent with Antioxidants
+ Product Benefits
Synthetic
DUSTAID SYN LV
Synthetic Dust Control Agent – Low Viscosity
+ Product Benefits
DUSTAID SYN HV
Synthetic Dust Control Agent – High Viscosity
+ Product Benefits
DUSTAID SYN LV + CAKE BRAKE
Synthetic Dust Control and Anti-Caking Agent
+ Product Benefits
Paraffin
DUSTAID PARA LV
Paraffinic Dust Control Agent – Low Viscosity
+ Product Benefits
DUSTAID PARA HV
Paraffinic Dust Control Agent – High Viscosity
+ Product Benefits
DUSTAID PARA LV + CAKE BRAKE
Paraffinic Dust Control and Anti-Caking Agent
+ Product Benefits
DUSTAID WAX
Paraffin Wax Blend
+ Product Benefits
DUSTAID WAX + CAKE BRAKE
Paraffin Wax with Anti-Caking Agent
+ Product Benefits