Anti-Caking Solutions for Agricultural Products
Cake Brake products are formulated to provide long-lasting anti-caking. By altering the interfacial surface tension between treated granules, Cake Brake inhibits crystallization and adhesion between surfaces, retarding pile-set and bag-set during storage and transportation. In addition to improving marketability by ensuring a free-flowing, non-clumping, non-caking material, Cake Brake provides a moderate level of short-term dust control.
MINTECH COATINGS SYSTEMS
Our process starts with a site visit by MinTech engineers who then custom-design, fabricate, install, and operate an application system suited to each operation's performance and budgetary goals. Most systems include product storage (bulk tank, totes, or drums), pumps, material flow sensors, control panels, and spray or foam nozzles. Because we take responsibility for every part of the process, we guarantee performance and quality.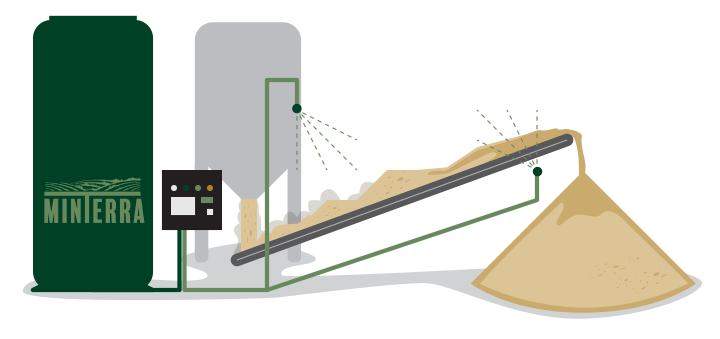 APPLICATIONS
Designed to enhance flowability and prevent pile set in NPK blends, AN, AS, Urea, Potash, Phosphates, Sulfurs, Biosolids, Micronutrients, Limestone, Gypsum, Salts, DAP, MAP, GTSP, SOP, KNO3, KCI and other agricultural solids.
Product Line
CAKE BRAKE WS100
Water-Soluble Anti-Caking Agent
+ Product Benefits
CAKE BRAKE WR100
Water-Resistant Anti-Caking Agent
+ Product Benefits
CAKE BRAKE WR50
Water-Resistant Anti-Caking Agent
+ Product Benefits
CAKE BRAKE WRB
Bio-Based, Water-Resistant Anti-Caking Agent
+ Product Benefits